Andy Lopata is a business networking strategist who works with companies and shows them how to use networking tools to develop their businesses.
Labelled 'Mr Network' by The Sun, Andy is the co-author of 'Building a Business on Bacon & Eggs' and "And Death Came Third".
Andy is an energetic presenter who tells his audience that successful networking is not just about sales. Whether for lead generation, breaking down silos internally, recruitment and retention of top staff or developing future leaders, networks and collaboration have a key role to play and Andy works with clients to help recognise that role and put the strategy and skills in place to leverage it.

Andy Lopata passionately believes that networking is a vital tool in business, from sales generation to career development. Unfortunately, it's still not treated with the same strategic consideration as other business methods, leaving many companies and individuals failing to realise the potential their networks offer. Andy demonstrates how knowing why you are networking, and what you want to achieve, it is possible to plan accordingly and get great, measurable results.

He has a regular column for the US magazine 'The National Networker' and has been quoted in national press, including The Sunday Times, The Financial Times and The Guardian and is a former vice-president of the Professional Speakers Association.

For eight years, he was Managing Director of Business Referral Exchange, one of the UK's leading referral-focused networking groups with over 2,000 member companies. Since leaving BRX, he has worked with companies from one-man bands to global names such as NatWest Bank, Merrill Lynch and Mastercard to help them realise the full potential from their networking.

When he's not networking, speaking or training he has the dubious pleasure of being an avid Charlton Athletic football fan. He like sports generally, attending British athletics, Wimbledon and the cricket most years and he has been to the 2007 Rugby Union World Cup Final.

He tries his hand (very badly) at golf, where he maintains that his handicap is his swing. He also is a keen exponent of waterskiing and also swims regularly, although that's also what he spends most of his time doing when he waterskis!

Culturally, he loves music and has a very eclectic taste. As a self-confessed typically moody teenager he listened to The Doors, Hendrix, Lou Reed and Bowie while at Uni, though he hastens to add, they had all long disappeared from the scene by then! His taste these days ranges from classical to punk, with a lot in between.

His other passions are theatre, film and cooking he makes a mean Chocolate Truffle Torte!
Andy's latest talks:
Bigger Than You - The Hidden Power of Your Network
How to Find a Sponsor - Without Even Asking
Andy has just released his new book Just Ask- Why Seeking Support is Your Greatest Strength after three years of work!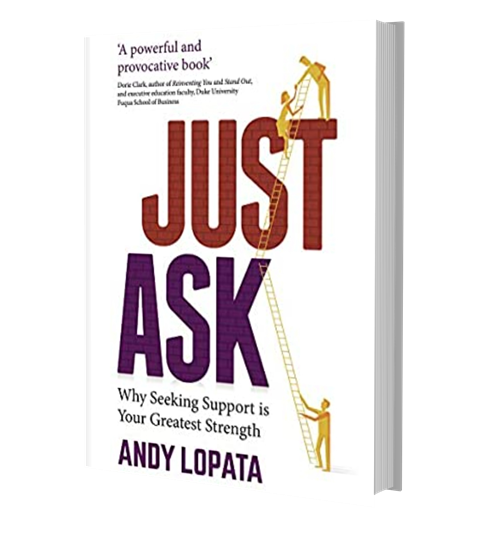 "We had not previously used a speaker that is not involved with our sector before so it was a bit of a risk, having heard speakers at other conferences whose material doesn't relate well to our sector. However, I explained this to Andy.....I was delighted with his presentation and within about 10 minutes I could feel the positive reaction of the audience.
Andy's session lasted for an hour and a half and involved the audience doing some discussions in small groups. The feedback was excellent. Almost everyone gave top marks. Several people were surprised to find out that Andy didn't work in our sector as he related his knowledge so well and confidently, which was key to getting the audience to buy into his advice. I can thoroughly recommend Andy. He is true professional and an excellent conference speaker and trainer."
Director, British Boarding Schools Workshop
"Our business has demonstrably grown due to the new techniques and skills learned through working with Andy."
"Networking is a critical skill for success and Andy offered many helpful tips that were relevant and useful to our pan-European employees. We will definitely have Andy back for another session and are looking for other ways to partner with him."
Head of Strategy Development Europe, MasterCard
"One of Europe's leading business networking strategists.
"The Financial Times
"A master of networking"
The Independent and Forbes.com